Order Take-away (trial run)
Place your order for take-away here. We will confirm your order shortly and start working on it. We will send you an e-mail notification when your order is ready for you to pick up.
Try one of our affordable Sushi Combos and put together a combo of your choice. We also offer variety of Small sushi menus and Big sushi sets.
Sushi Combos
Combo 6 - 239,- Kč
1x Nigiri
1x Maki
1x Kalifornia
Combo 8 - 269,- Kč
1x Nigiri
1x Maki
1x Futomaki
Sushi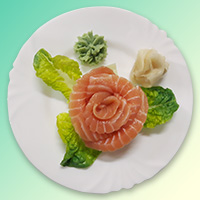 1. Salmon, 4pcs: 109,- Kč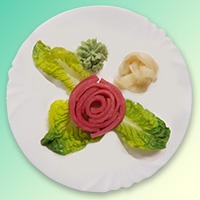 2. Tuna, 4pcs: 119,- Kč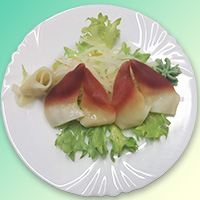 3. Hokkigai, 4pcs: 119,- Kč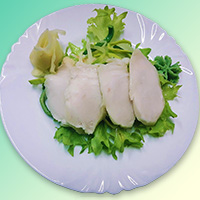 4. Butterfish, 4pcs: 119,- Kč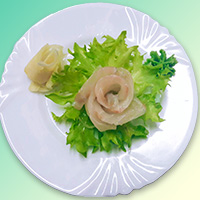 5. Dorada, 4pcs: 119,- Kč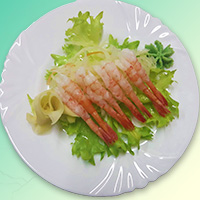 6. Freshwater shrimp, 4pcs: 119,- Kč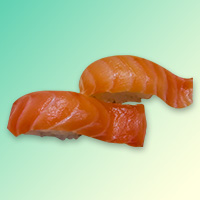 7. Salmon, 2pcs: 89,- Kč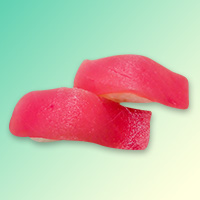 8. Tuna, 2pcs: 99,- Kč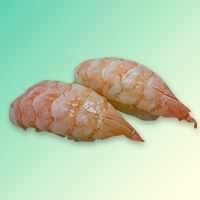 9. Shrimp, 2pcs: 89,- Kč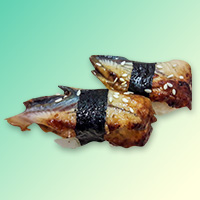 10. Eel, 2pcs: 99,- Kč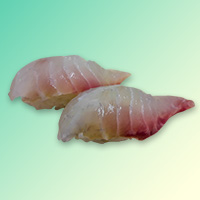 11. Dorada, 2pcs: 99,- Kč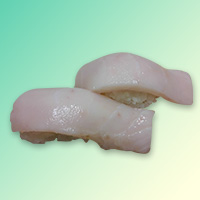 12. Butterfish, 2pcs: 89,- Kč
13. Avocado, 2pcs: 69,- Kč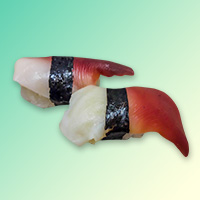 14. Hokkigai, 2pcs: 99,- Kč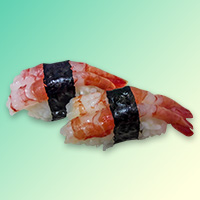 15. Freshwater shrimp, 2pcs: 89,- Kč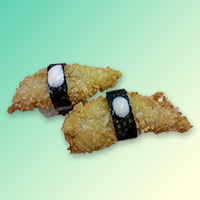 16. Fried shrimp, 2pcs: 89,- Kč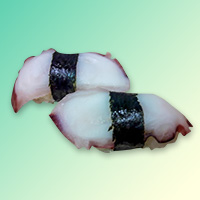 17. Octopus, 2pcs: 89,- Kč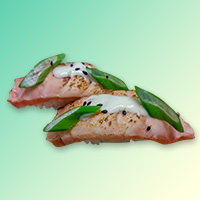 18. Grilled salmon, 2pcs: 99,- Kč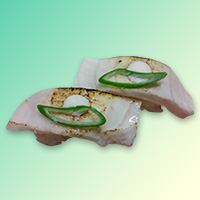 19. Grilled butterfish, 2pcs: 99,- Kč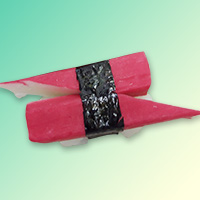 20. Surimi, 2pcs: 69,- Kč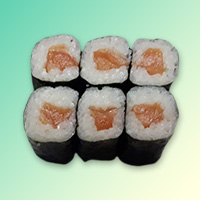 21. Salmon, 6pcs: 89,- Kč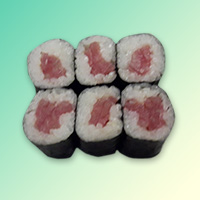 22. Tuna, 6pcs: 99,- Kč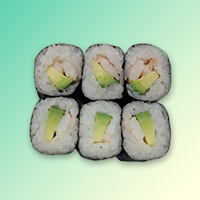 23. Shrimp and avocado, 6pcs: 89,- Kč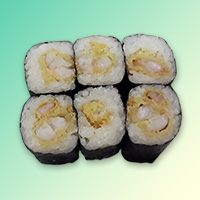 24. Fried shrimp, 6pcs: 89,- Kč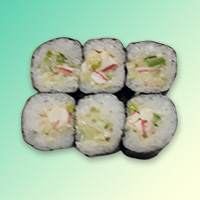 25. Shrimp salad, 6pcs: 89,- Kč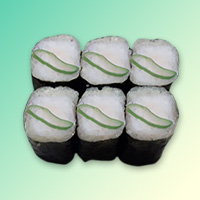 26. Butterfish, 6pcs: 89,- Kč
27. Surimi, 6pcs: 79,- Kč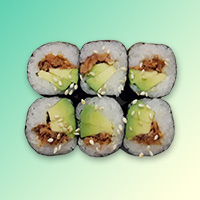 28. Salmon roll, avocado, 6pcs: 89,- Kč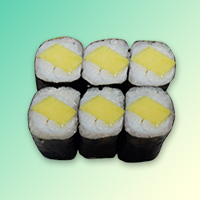 29. Mango, 6pcs: 79,- Kč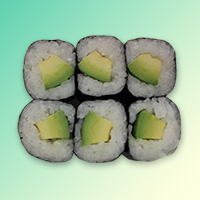 30. Avocado, 6pcs: 79,- Kč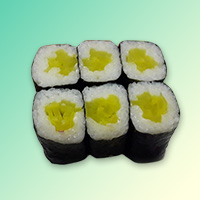 31. Radish, 6pcs: 69,- Kč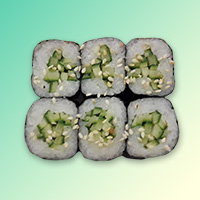 32. Cucumber, 6pcs: 69,- Kč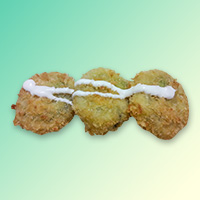 33. Sushi Tam Da, 3pcs: 79,- Kč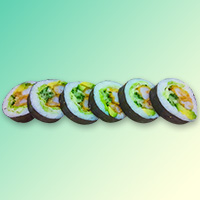 34. Fried shrimp, salad, avocado, cucumber, 6pcs: 149,- Kč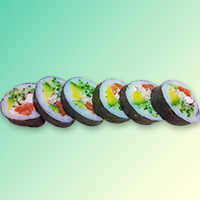 35. Salmon, shrimp, surimi, avocado, cucumber, 6pcs: 149,- Kč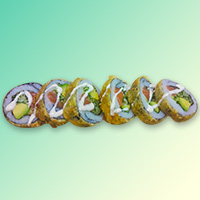 36. Salmon, avocado, cucumber (fried), 6pcs: 164,- Kč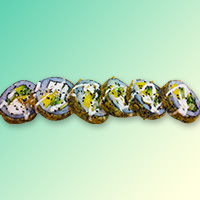 37. Avocado, cucumber, mango (fried), 6pcs: 159,- Kč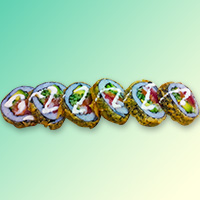 38. Salmon, shrimp, tuna, avocado, cucumber (fried), 6pcs: 174,- Kč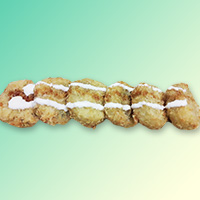 39. Sushi Tam Da, 6pcs: 159,- Kč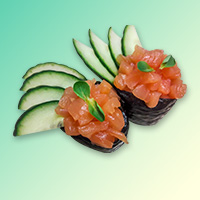 40. Salmon, 2pcs: 119,- Kč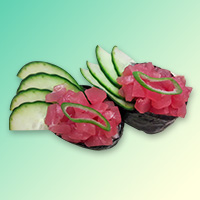 41. Tuna, 2pcs: 119,- Kč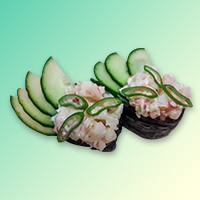 42. Shrimp, 2pcs: 109,- Kč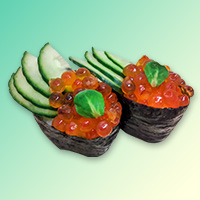 43. Salmon caviar, 2pcs: 109,- Kč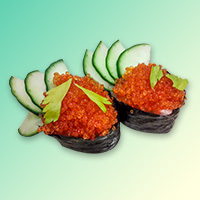 44. Red caviar, 2pcs: 89,- Kč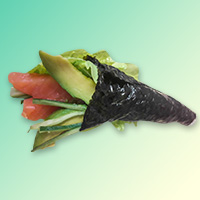 45. Salmon, avocado, cucumber: 99,- Kč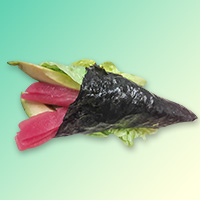 46. Tuna, avocado, cucumber: 119,- Kč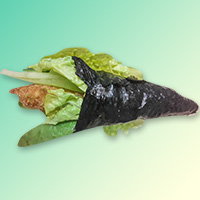 47. Fried shrimp, avocado, cucumber: 99,- Kč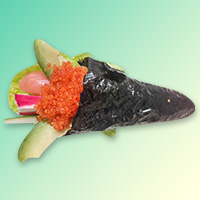 48. Red caviar, salmon, surimi, avocado, cucumber: 119,- Kč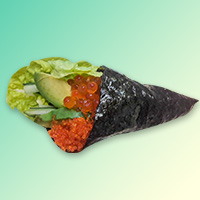 49. Salmon caviar, red caviar, avocado, cucumber: 109,- Kč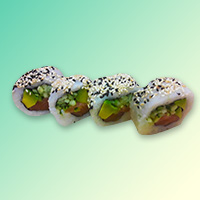 50. Salmon, avocado, cucumber, covered in sesame, 4pcs: 99,- Kč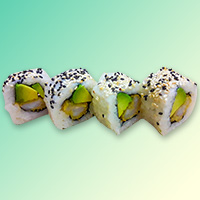 51. Fried shrimp, avocado, cucumber, covered in sesame, 4pcs: 99,- Kč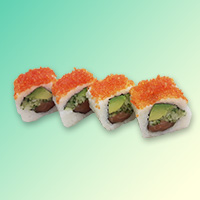 52. Salmon, avocado, cucumber, red caviar, 4pcs: 99,- Kč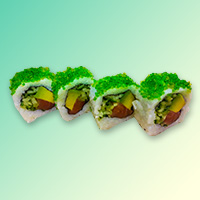 53. Salmon, avocado, cucumber, green caviar, 4pcs: 99,- Kč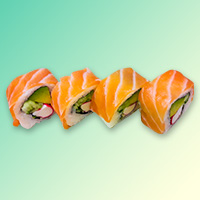 54. Surimi, avocado, cucumber, covered with salmon, 4pcs: 99,- Kč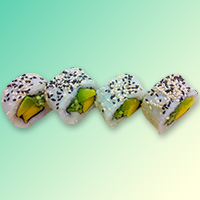 55. Avocado, cucumber, mango, covered in sesame, 4pcs: 99,- Kč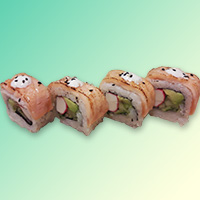 56. Surimi, avocado, cucumber, covered with grilled salmon, 4pcs: 99,- Kč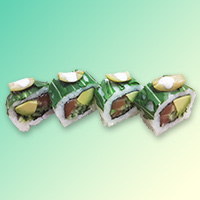 57. Salmon, avocado, cucumber, covered with rucola and olives, 4pcs: 99,- Kč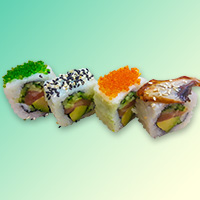 58. Salmon, avocado, cucumber, covered with caviar, sesame and eel, 4pcs: 99,- Kč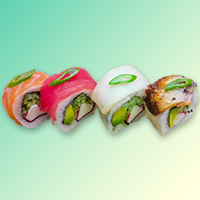 59. Surimi, avocado, cucumber, covered with eel, salmon, tuna and butterfish, 4pcs: 139,- Kč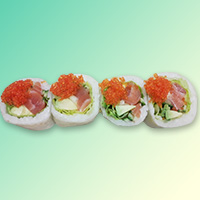 60. Salmon, avocado, cucumber, red caviar (in rice wrap), 4pcs: 99,- Kč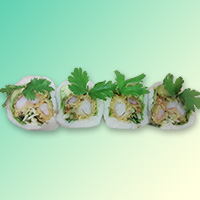 61. Fried shrimp, avocado, cucumber, coriander, 4pcs: 99,- Kč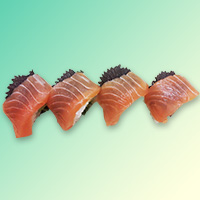 62. Avocado, cucumber, covered with salmon and perilla, 4pcs: 99,- Kč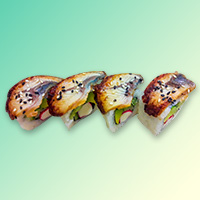 63. Surimi, avocado, cucumber, covered with eel, 4pcs: 139,- Kč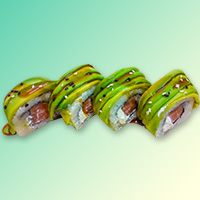 64. Salmon, Philadelphia cheese, covered with avocado, 4pcs: 139,- Kč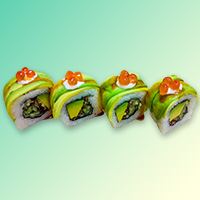 65. Eel, avocado, cucumber, covered with avocado and red caviar, 4pcs: 139,- Kč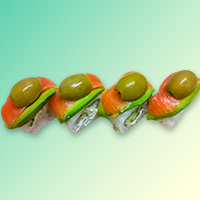 66. Avocado, Philadelphia cheese, covered with salmon, avocado and olives, 4pcs: 139,- Kč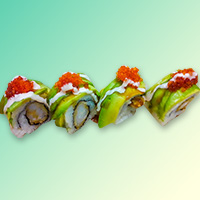 67. Fried shrimp, covered with avocado and red caviar, 4pcs: 139,- Kč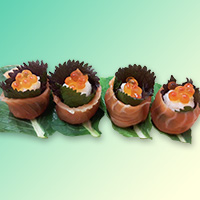 68. Rice with salmon caviar wrapped in perilla and salmon, 4pcs: 139,- Kč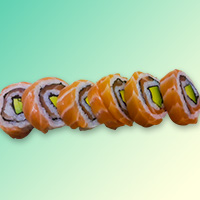 69. Avocado, wrapped twice with salmon, 6pcs: 189,- Kč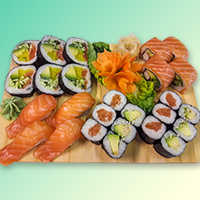 Set 70
6 maki with avocado, 6 maki with salmon, 4 salmon nigiri, 6 futomaki (salmon, avocado, cucumber and radish), 4 kalifornia (surimi, avocado, cucumber, covered with salmon): 429,- Kč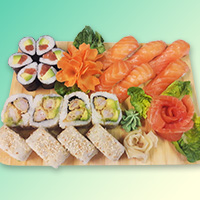 Set 71
6 maki with salmon and avocado, 6 salmon nigiri, 5 salmon sashimi, 8 kalifornia (fried shrimp, avocado): 449,- Kč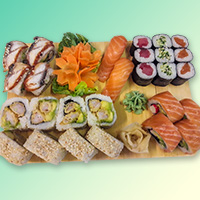 Set 72
3 maki with salmon, 3 maki with tuna, 3 maki with cucumber, 3 salmon nigiri, 8 kalifornia (fried shrimp, avocado), 4 kalifornia (surimi, avocado, cucumber, covered with eel), 4 kalifornia (surimi, avocado, cucumber, covered with salmon): 489,- Kč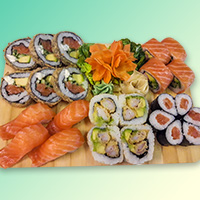 Set 73
6 maki with salmon, 4 salmon nigiri, 6 fried futomaki (salmon, avocado, cucumber), 4 kalifornia (fried shrimp, avocado), 4 kalifornia (surimi, avocado, cucumber, covered with salmon): 519,- Kč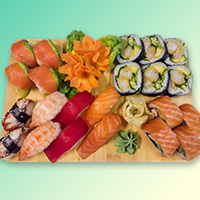 Set 74
2 salmon nigiri, 2 tuna nigiri, 2 shrimp nigiri, 2 eel nigiri, 6 futomaki (fried shrimp, avocado, cucumber, salad), 4 kalifornia (surimi, avocado, cucumber, covered with salmon), 4 kalifornia (avocado, Philadelphia cheese, covered with salmon and avocado): 529,- Kč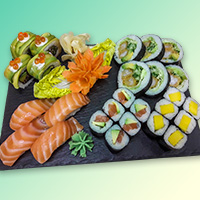 Set 75
6 maki with salmon and avocado, 6 maki with mango, 4 salmon nigiri, 6 futomaki (fried shrimp, avocado, cucumber, salad), 4 spec. kalifornia (eel, avocado, cucumber, covered with salmon caviar and avocado): 439,- Kč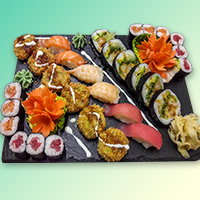 Set 76
6 maki with salmon, 6 maki with tuna, 2 salmon nigiri, 2 tuna nigiri, 2 shrimp nigiri, 6 futomaki (fried shrimp, avocado, cucumber, salad), 6 maki Tam Da (shrimp, avocado, kimchi): 499,- Kč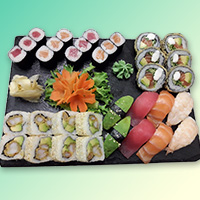 Set 77
6 maki with salmon, 6 maki with tuna, 2 salmon nigiri, 2 tuna nigiri, 2 shrimp nigiri, 2 avocado nigiri, 6 fried futomaki (salmon, avocado, cucumber), 8 kalifornia (fried shrimp, avocado): 599,- Kč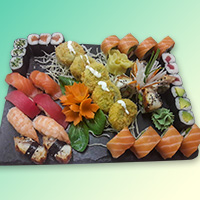 Set 78
3 maki with salmon, 3 maki with tuna, 3 maki with avocado, 3 maki with cucumber, 2 salmon nigiri, 2 tuna nigiri, 2 shrimp nigiri, 2 eel nigiri, 5 maki Tam Da (shrimp, avocado, kimchi), 4 kalifornia (surimi, avocado, cucumber, covered with eel), 8 kalifornia (surimi, avocado, cucumber, covered with salmon): 619,- Kč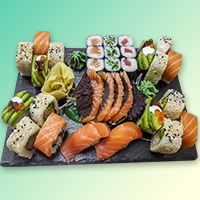 Set 79
3 maki with salmon, 3 maki with tuna, 3 maki with cucumber, 2 salmon nigiri, 4 salmon sashimi, 4 kalifornia (surimi, avocado, cucumber, covered with salmon), 8 kalifornia (fried shrimp, avocado, cucumber, covered in sesame), 4 spec. kalifornia (eel, avocado, cucumber, covered with salmon caviar and avocado): 639,- Kč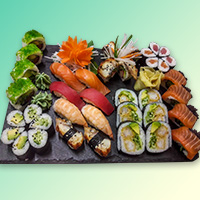 Set 80
3 maki with salmon, 3 maki with tuna, 3 maki with avocado, 3 maki with cucumber, 2 salmon nigiri, 2 tuna nigiri, 2 shrimp nigiri, 2 eel nigiri, 6 furomaki (fried shrimp, avocado, cucumber, salad), 4 kalifornia (surimi, avocado, cucumber, covered with eel), 4 kalifornia (salmon, avocado, cucumber, covered with green caviar), 4 kalifornia (avocado, cucumber, covered with salmon and perilla): 699,- Kč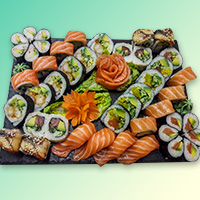 Set 81
6 maki with salmon and avocado, 6 maki with shrimp and avocado, 4 salmon nigiri, 4 salmon sashimi 6 futomaki (fried shrimp, avocado, cucumber, salad), 6 futomaki (salmon, avocado, cucumber, radish), 4 kalifornia (salmon, avocado, cucumber), 4 kalifornia (surimi, avocado, cucumber, covered with eel), 8 kalifornia (surimi, avocado, cucumber, covered with salmon): 949,- Kč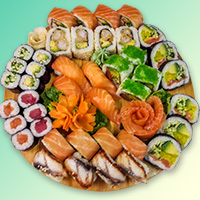 Set 82
3 maki with salmon, 3 maki with tuna, 3 maki with avocado, 3 maki with cucumber, 4 salmon nigiri, 4 salmon sashimi, 6 futomaki (salmon, avocado, cucumber, radish), 4 kalifornia (surimi, avocado, cucumber, covered with eel), 4 kalifornia (fried shrimp, avocado), 4 kalifornia (salmon, avocado, cucumber, covered with green caviar), 8 kalifornia (surimi, avocado, cucumber, covered with salmon): 849,- Kč
Set 83
6 maki with salmon, 6 maki with avocado, 4 salmon nigiri, 4 salmon sashimi, 4 fried shrimps in rice flakes, 6 maki in rice wrap (salmon, avocado, cucumber) 6 maki Tam Da (shrimp, avocado, kimchi), 6 futomaki (fried shrimp, avocado, cucumber), 8 kalifornia (surimi, avocado, cucumber, covered with salmon), 8 kalifornia (surimi, avocado, cucumber, covered with eel): 1199,- Kč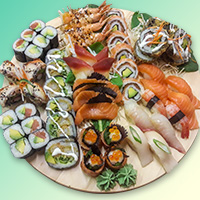 Set 84
6 maki with salmon and avocado, 6 maki with avocado, 4 salmon nigiri, 2 dorada nigiri, 2 butterfish nigiri, 2 freshwater shrimp nigiri, 4 salmon sashimi, 4 hokkigai sashimi, 4 grilled shrimps, 6 futomaki (fried shrimp, avocado, cucumber, salad), 6 fried futomaki (salmon, avocado, cucumber), 4 kalifornia (surimi, avocado, cucumber, covered with eel) 6 spec. kalifornia (avocado, wrapped twice in salmon) 4 spec. kalifornia (rice with salmon caviar wrapped in perilla and salmon): 1499,- Kč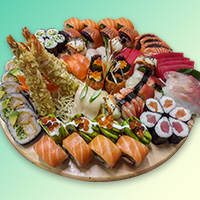 Set 85
3 maki with salmon, 3 maki with tuna, 3 maki with avocado, 3 maki with cucumber, 2 salmon nigiri, 2 tuna nigiri, 2 butterfish nigiri, 2 dorada nigiri, 2 hokkigai nigiri, 2 freshwater shrimp nigiri, 4 salmon sashimi, 4 tuna sashimi, 4 dorada sashimi, 4 fried shrimps in rice flakes, 6 futomaki (fried shrimp, avocado, cucumber, salad), 8 kalifornia (surimi, avocado, cucumber, covered with salmon), 4 kalifornia (surimi, avocado, cucumber, covered with eel), 4 kalifornia (avocado, cucumber, covered with salmon and perilla), 4 spec. kalifornia (eel, avocado, cucumber, covered with salmon caviar and avocado), 4 spec. kalifornia (rice with salmon caviar wrapped in perilla and salmon): 1699,- Kč
Soups, Salads and Hot Meals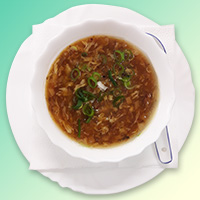 A1. Beijing soup: 39,- Kč
A2. Shrimp soup: 69,- Kč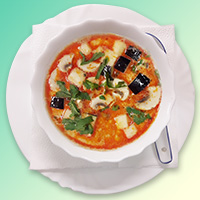 A3. Tom Kha Gai: 49,- Kč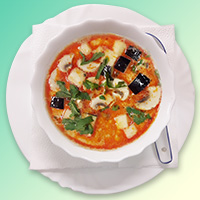 A4. Tom Kha Guei: 49,- Kč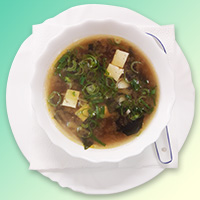 A5. Miso soup with tofu: 44,- Kč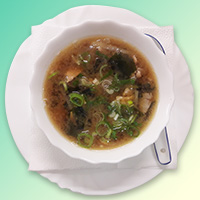 A6. Miso soup with salmon: 49,- Kč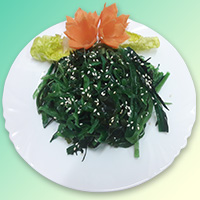 A7. Wakame salad: 69,- Kč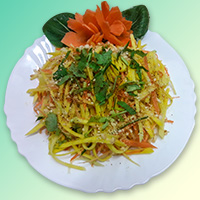 A8. Mangový salad: 69,- Kč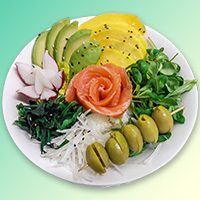 A9. Salmon salad with rice: 219,- Kč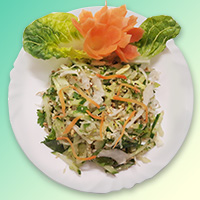 A10. Vietnamese salad: 49,- Kč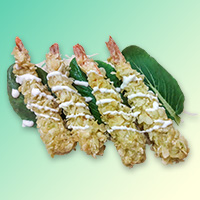 A11. Fried shrimp in rice flakes, 4ks: 119,- Kč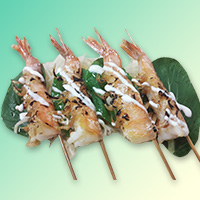 A12. Grilled shrimps, 4ks: 119,- Kč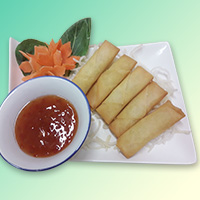 A13. Mini vegan rolls, 5ks: 49,- Kč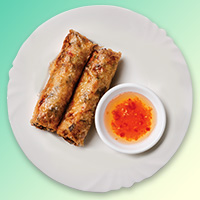 A14. Spring rolls, 2ks: 59,- Kč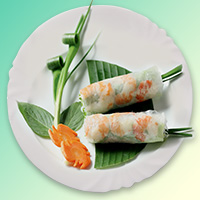 A15. Salad rolls, 2ks: 59,- Kč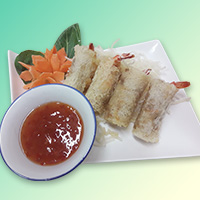 A16. Fried shrimp rolls, 4ks: 79,- Kč
C1. Stir fried udon with chicken: 149,- Kč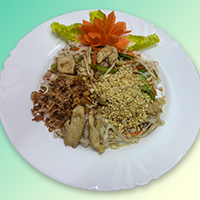 C2. Chicken Pad Thai: 149,- Kč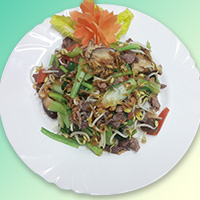 C3. Stir fried phở with beef: 169,- Kč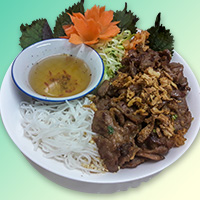 C4. Bún bò Nam Bộ: 159,- Kč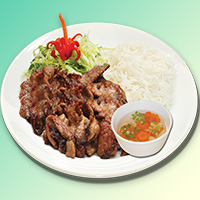 C5. Bún chả: 149,- Kč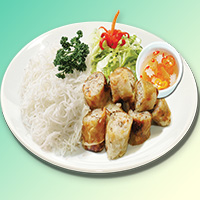 C6. Bún nem: 149,- Kč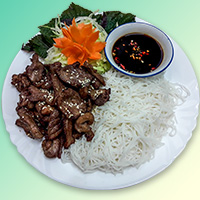 C7. Bún ngan nướng: 189,- Kč
C8. Stir fried chicken with vegetables, mushrooms and oyster sauce, rice: 149,- Kč
C9. Stir fried chicken with vegetables, mushrooms and tomato sauce, rice: 149,- Kč
C10. Stir fried chicken on red curry with vegetables and mushrooms, rice: 159,- Kč
C11. Fried chicken in japanese breadcrumbs with sweet-sour sauce, rice: 159,- Kč
C12. Stir fried beef with vegetables, mushrooms and oyster sauce, rice: 159,- Kč
C13. Stir fried beef with vegetables, mushrooms and tomato sauce, rice: 159,- Kč
C14. Stir fried beef on red curry with vegetables and mushrooms, rice: 169,- Kč
C15. Stir fried shrimps with vegetables, mushrooms and oyster sauce, rice: 189,- Kč
C16. Stir fried shrimps with vegetables, mushrooms and tomato sauce, rice: 189,- Kč
C17. Stir fried shrimps on red curry with vegetables and mushrooms, rice: 199,- Kč
C18. Fried butterfish in japanese breadcrumbs with sweet-sour sauce, rice: 219,- Kč
C19. Roasted duck with vegetables and mushroom sauce, rice: 189,- Kč
C20. Roasted duck with vegetables and red curry sauce, rice: 199,- Kč
C21. Stir fried tofu with vegetables, mushrooms and oyster sauce, rice: 149,- Kč
C22. Stir fried tofu with vegetables, mushrooms and tomato sauce, rice: 149,- Kč
C23. Stir fried tofu on red curry with vegetables and mushrooms, rice: 159,- Kč